About Our Family
Nestled in the mountains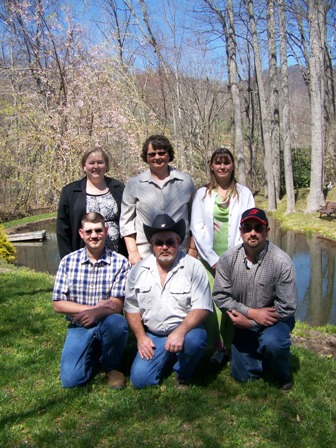 of Western North Carolina is Lenoir's Creek Devon, about 45 minutes west of Asheville in a small country area called Cruso. We have the oldest herd of Devon cattle in the USA, on a little over 200 acres, here at the home place. These 200 acres are leased. Trying to increase our herd for the future, we also lease about 500 more acres. Remember we are in the mountains, and much of this is woods, in which the Devon love to roam along with open pasture.
Charlie and I have been around cattle all of our lives. His father and my father had cattle of many different breeds. It is our opinion that the Devon are the most docile cattle of any breed we have worked with. We can work the herd with no additional help.
We breed our largest group of Devon in December. The herd sire Lakota Guardsman F142 was used for 10 years, but was replaced by his son "Will" starting in the fall of 2011. Both bulls are pictured on our "Herd" page. The calves start arriving in mid-September through October. These calves are weaned in May. We also have larger herd that is bred in June, with calving starting in March. These calves are then weaned in September.
You are welcome to come and visit our farm and see Devon cattle in their own environment. Just notify us to make arrangements, and we will be glad to show you a herd of registered Red Devon USA Cattle.