Lenoir's Creek Devon Farm History
The story of Lenoir's Creek Devon officially begins in 1849. Prior to that, Devon were brought to North America by the Pilgrims. The Pilgrims set sail from Plymouth, on the south coast of Devon, eventually settling in the New World and established Plymouth Colony in the 1600's.
In 1623, the ship Charity brought Devon cattle from England to Edward Winslow, the agent for the Plymouth Colony. Between 1800 and 1851, Americans received 15 shipments of Devon cattle from England. In 1800, Winthrop and Davenport imported some animals to Massachusetts. In 1805, General Eaton imported Devon to New York. In 1817 Robert Patterson, a Baltimore merchant, was given 6 heifers and a bull by the Earl of Leicester - a noted English stockman. This shipment to Maryland provided breeding stock for Devon herds along the Atlantic coast. Even Daniel Webster imported Devon in 1842.
Captain Thomas Isaac Lenoir and his slaves drove the first Devon cattle to settle the North Carolina mountains from Maryland in the summer of 1849. It is said that it took them the entire summer to make the journey. There is no record of the size of the original herd; however, there is documentation that Devon have been here on this farm since 1849.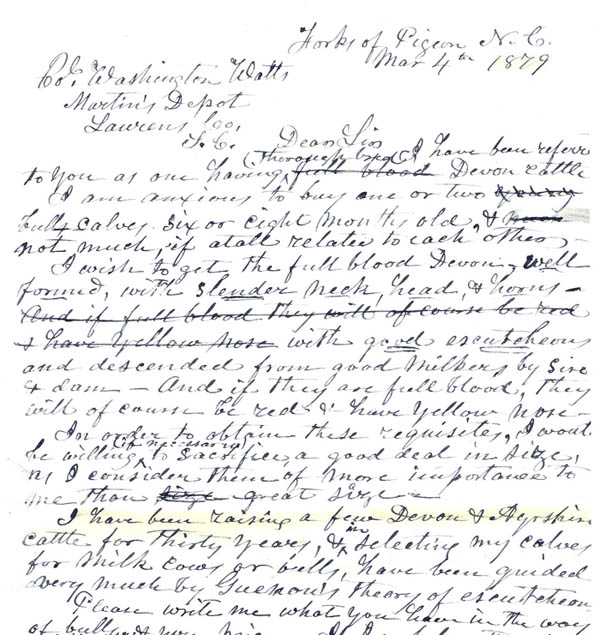 Note: The letter was written in 1879 and states that
Captain Lenoir had been raising Devon for thirty years before that time.
Captain Thomas Lenoir owned 9 square miles at that time. It has been described as reaching from ridge top to ridge top.
In the spring of 1865, Confederate and Union troops alike were poorly supplied. Some of Captain Lenoir's cattle were slaughtered to feed the troops. However, much of the Devon herd had been grazing in the high pastures in the foothills and were overlooked by the foragers.
John McDowell Michal married Mary Lenoir. The Devon cattle, along with the farm, have been handed down from generation to generation. Mary L. Michal, M.D. of Johnson City, TN and her brother, Joseph L. Michal, Sr. of Greer, SC are now the owners of the farm. We (the Tranthams - Charlie and Martha) began working on the farm in 1988 as managers. In 1995, we began leasing the farm and have been raising Devon from the descendants of the first Devon brought here in 1849.