Why We Raise Devon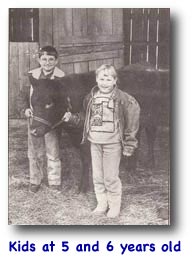 We started working with Devon in 1988. That was a time when Devon were not that well known. We were with the Devon when no one else seemed to want anything to do with the grass-fed animals. We stayed with Devon for several reasons.


They were the most docile cattle we had ever been around. With our children only 5 and 6 years old at the time, we felt better if they were around the Devon rather than a crossbreed. I am not saying that you should not respect animals, but we never had to be afraid that our children would be charged by the Devon. They would play in the pastures while we were working. At that time, Charlotte's Web was a big movie. Our kids adopted a heifer and named her Charlotte. Charlotte was with us for 14 years, giving us some beautiful heifers. She is pictured at right with our children as youngsters.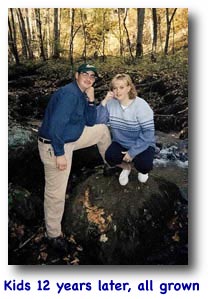 Another good thing about Devon, they are natural foragers. You don't need to buy expensive grain to feed them. In the summer when the temperatures get high, we turn the Devon into the woods where the temperatures feel about 10 degrees cooler. There they roam and forage getting fat while staying cool. I like checking on them this time of year, it gives us a chance to cool off also.
The Devon females have great maternal instincts. They have plenty of milk, which enables the calf to grow at a steady rate. We liked the history of the farm and felt privileged to be able to work with cattle that had been on this farm since 1849. The females are still descendants of the original herd, with all of our Devon being registered Pure Devon.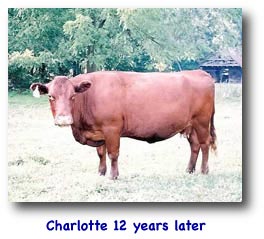 We wait until our heifers are about 2 years old, before we breed them. We feel we have given them a chance to mature a little more. They have easier calving, with calf birth weights averaging 65 – 75 lbs. While some people feel we have lost a calf by waiting, we feel we gain by getting more calves from an older cow. We have had cows that have calved at age 18. Some of our older cows are now being flushed by other breeders.
Charlie and I are both active members of Red Devon USA. Charlie served three years as President of the ADCA. I was the ADCA Secretary from November 2003 to July 2010. We have had many rewarding experiences with our Devon Cattle in the past and now in the present. We are looking forward to the future as well, watching our docile Devon grow. We would like to put out a warm welcome to anyone who would like to come to Lenoir's Creek to see our herd.
Benefits of the Devon Breed
Devons are known for their longevity. The cow shown below is 19 years old.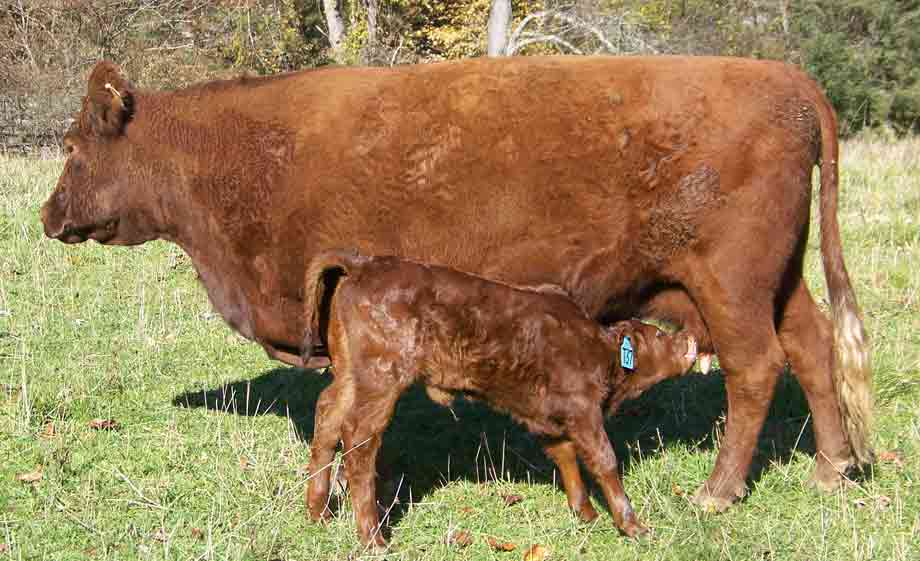 P38182 - Lenoir Sunshine's Model, Tag: Z37 - DOB: 1/24/1990
Calf: Heifer, Tag: T37 - DOB: 10/30/2008
Charles and Martha Trantham
43 Lenoir Lane, Canton, NC 28716
Charlie 828.734.7118 Martha 828.734.6527




Copyright 2008, Lenoir's Creek Devon, All Rights Reserved.